Our Bed & Breakfast
Take the tour of our B&B

What's on Offer
A little about what we do.
About us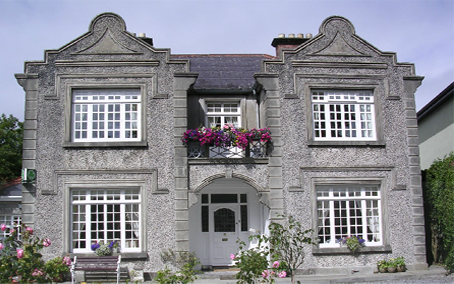 Welcome to the website of St. Judes Bed & Breakfast. We are proud to offer you an elegantly restored 1920's family run luxury accommodation and gastro experience, in a peaceful and tranquil setting.
If you are taking a spin down the Wild Alantic Way St Judes is the place to stop and base yourself to explore Galway and Co. Clare.
Alternatively if you are looking for a base to enjoy some of the many sporting events Galway has to offer, our home will guarantee you the comfort and nourishment you require to fuel your efforts.
St Judes is the ideal place to stay for your trip to Galway, be it for the any of the big Festivals, (Galway Races, or Arts Festival) or Weekend Breaks, with excellent access to public transport and only a 10 minute walk from some of the most famous venues in Galway we would be delighted to welcome you for your stay. We hope you enjoy your visit to our website, and we look forward to welcoming you to St. Judes. Tony & Ita Johnstone
Testimonials
Our customers have great things to say about what we do.
"The Best"

We thoroughly enjoyed our stay at this BandB. We had a spacious room overlooking the front gardens. The bedroom and ensuite are very clean, modern and tastefully decorated. The staff are extremely friendly and the breakfast menu provides a variety of choices. The premises are within walking distance to the Salthill promenade and only 15 minutes to the city centre. The owner of the BandB was very helpful and engaging.

- James D

"Central and great value"

Very close to Galway town (30 minutes on foot from coach station – taking our time) or few minutes away from Salthill village, this B+B is a gem! The house and room are beautifully and carefully decorated, spotless and comfortable. We were lucky enough to have a view to the garden that at this time of the year is full of roses. Breakfast includes a buffet of yoghurts, cereals, juice, and fruits + the hot menu. All very nice as well. Ita, one of the owners, was extremely helpful for directions and restaurants in the area (plus there was a folder in the bedroom with a detailed list of what's on Galway and Salthill). We will definitely be back 🙂

- Debora A

"Highly recommended!"

Unfortunately I stayed only one night, but I felt very comfortable. The owners are simply the best. I got all information I needed. It is a beautiful house in very good condition. The rooms have all comfort you need, very tastefully decorated and comfortable. The breakfast is just amazing.
It is near to the city centre, but in a stilly neighbourhood.
So… it was lovely! 🙂 I will definitely come again.

- Noemi K Frankfurt, Germany